Life in North Redondo Beach has the same luxurious appeal as many beach towns: an easy and low-key lifestyle that allows you to take advantage of gorgeous weather year-round. Living close to the water gives you access to many outdoor activities, while the town is full of urban experiences, like art galleries and
unique fine dining
. If you dream of a beach lifestyle that includes stunning beaches, a boat harbor, seaside restaurants, and a calendar full of events on the
pier
, you'll want to select a home for sale in North Redondo Beach. But before you can move in and call North Redondo Beach your new community, you'll want to make sure you select a home that will suit your needs and style.
When you are ready to begin your search, you will find many styles of homes for sale in North Redondo Beach, CA, for you to choose from. Narrowing down your search may take time and patience as you and the Redondo Beach realtors you have selected work through the available listings, especially if you have one particular architectural style you're looking for. You may also be on the other side of the spectrum and have no idea which style you prefer and are instead searching for the one home that will call out to you days after you see the listing. Whether you have a particular style in mind or are simply eager to find a new home for sale in North Redondo Beach, here are a few architectural styles for you to consider.
The Classic California Beach Cottage
Capturing the low-key beach lifestyle is simple when living in a beach cottage in North Redondo Beach, CA. These homes are bursting with comfort while maintaining a lightness and simplicity within. Walking up to a beach cottage and taking in your surroundings will quickly settle you into a more leisurely and relaxing pace of life. Wooden beam ceilings create an expansive feeling in these typically smaller homes, and custom built-ins are the perfect place to store your collection of art, books, or miscellaneous items. Although there are a few with second-story expansions, there is generally no need to worry about going up and down stairs in a beach cottage. Everything is on one floor, making it perfect for a lifelong home or your retirement destination. You will find smaller rooms, but each room has a specific purpose, and windows throughout the space bring in all of the California sunshine. Charming front porches and backyard spaces will give you access to the outdoors, perhaps to plant flowers or create your own
chef's garden
to enjoy the freshest food available.
Coastal Plantation
Are you someone who loves the feeling of a beach house but needs more space than your typical beach cottage? Do you love the historic feel of plantation homes with wide wood plank floors and stately front entrances? You may find the perfect blend of these styles in the coastal plantation homes for sale in North Redondo Beach, CA. The soaring board and batten on the exterior of this home-style will let you know immediately that this is a coastal home. Front entrances with columns and tall front doors will let your guest know they are about to enter a home with personality and charm.


This style of home is typically much larger than a beach cottage, but these homes still maintain the same atmosphere of comfort inside. The ceilings are often vaulted with exposed wooden beams, bringing together the easy coastal aesthetic with the more formal plantation style. The wide plank floors give the feeling of warmth, and expansive windows allow natural light to warm up the open floor plans. Second stories are common, creating separate living spaces for growing families. Doors in the back of the house frequently lead to additional outdoor spaces perfect for entertaining since people can easily mingle both inside and outside. Growing families will love the combination of comfort and style with a coastal plantation home in North Redondo Beach, CA.
Contemporary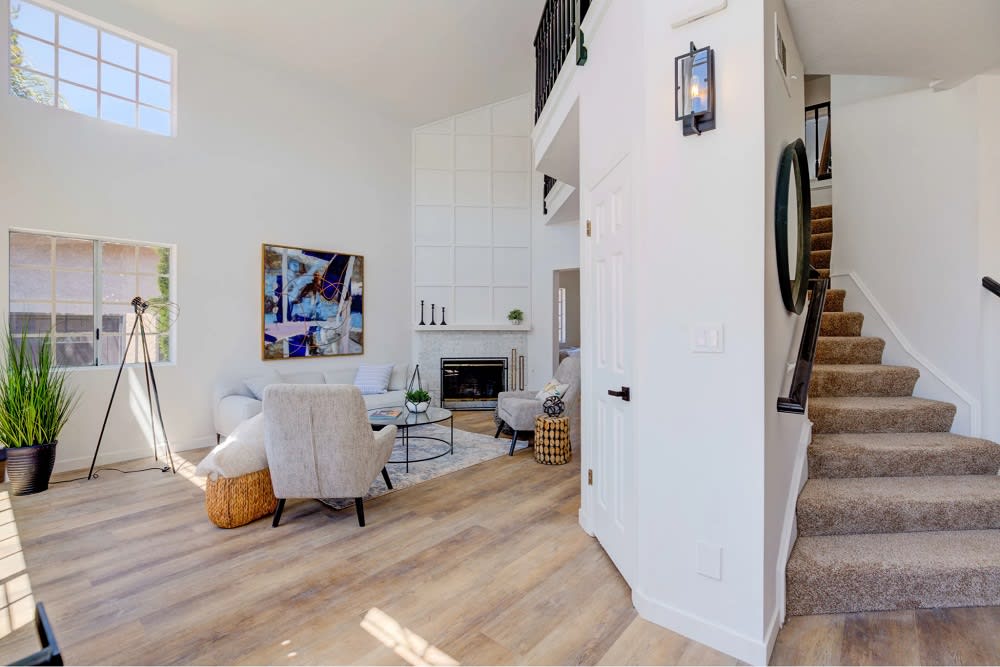 As we evolve as a society, the trends of design and style change. Contemporary homes continue to change as people move into a new era of function and design preferences. In the architectural world, modern or contemporary design reflects the present style in the appearance of the homes. This design style has only been around for about the last 50 years, and it is ever-changing as the styles evolve and transform over the years. Today's contemporary homes typically have large expansive windows, industrial aesthetics, and large open floor plans. Wrap-around windows are perfect for coastal homes, as the views add to the home's overall design.
Since contemporary homes are more modern in design, they have structures and features that set them apart from other homes in the neighborhood. Designers customize homes to be bold and beautiful from the outside and unique and captivating on the inside, down to the tiniest detail. Having an open floor plan is perfect for growing families or those who enjoy entertaining their friends and family. The style of contemporary homes for sale in North Redondo Beach, CA, will continue to evolve as time goes on. These homes are luxurious options for living a sophisticated lifestyle in a gorgeous beach town.


The architectural style of a home adds interest and character, but it does not define what the house will mean to you and your family. After choosing a lovely home in North Redondo Beach, CA, you will bring your style and decor into the house, creating a space that matches your preferences and personality. Highlighting unique designs and features will give accolades to the arduous work of the original designers and builders while keeping you in love with your new home.


Do you want to start looking at homes in one of these styles? If so, reach out to trusted local agent
Jesse Dougherty
. Redondo Beach realtors like Jesse can help you
get to know the Redondo Beach
area and help you find houses that meet your style preferences as you walk through the offer process.