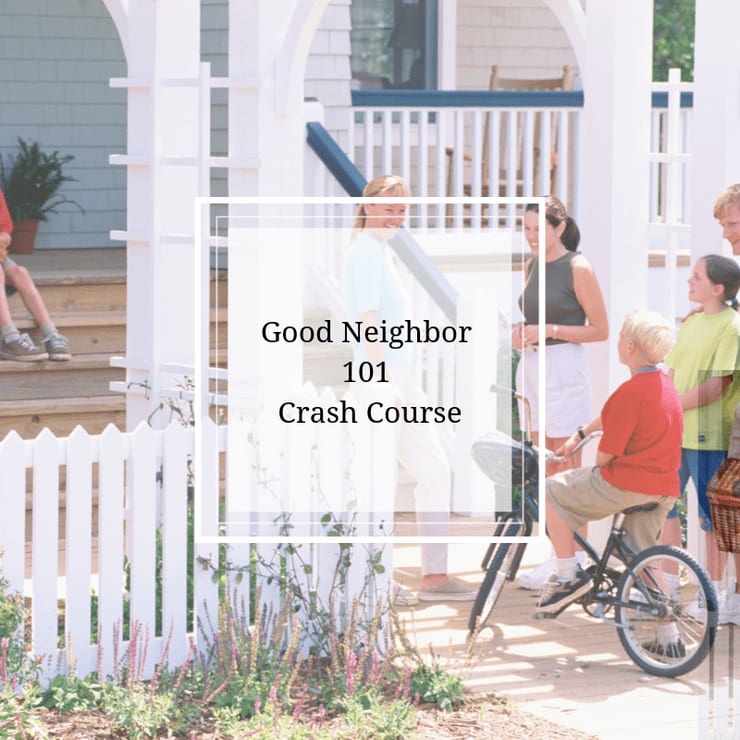 Anyone who has a neighbor – which is nearly everyone, really – knows the importance of getting along with those who live around you.

Let's face it: having good neighbors can be great. Bad neighbors can make living conditions miserable. Regardless of the type of neighborhood you live in or how close your neighbors may or may not be, the ultimate goal for everyone is the same – to live in peace and harmony.

It's important to know that every neighborhood has its own personality and dynamics. By understanding your neighborhood and following a few basic rules of etiquette of how to be a good neighbor, you can build relationships with those who live around you. You can also make a positive impact in your community.
Introduce Yourself
Make an effort to get to know your neighbors by introducing yourself in passing or by knocking on their door to ask something simple like which local park is the best. Start by making new neighbors feel welcome, and let others get to know you to cultivate long-lasting relationships.
Don't Bring the Noise
It might be the simplest way to not make enemies. No one expects you to be silent, but follow general rules of thumb, like making an effort to be quiet between 9 p.m. and 9 a.m., for starters. A lot depends on where you live, but don't be the exception to the status quo in your neighborhood.
Maintain Curb Appeal
Being a good neighbor includes maintaining your home exterior and/or yard to the same standards as the rest of the neighborhood. Keep up the maintenance basics to avoid being the homeowner on the street that brings home values down. If you live in an apartment or condo, don't infringe on community space.
Organize a Block Party or Other Events
Head up a block party without making others feel obligated to attend or contribute. Create an annual tradition as the catalyst that helps those around you get to know each other. If not a block party, try a neighborhood watch or community clean-up.
Coordinate Exercise or Community Groups
Use exercise as an opportunity to meet your neighbors and find common interests. A running, hiking, swimming or cycling group is a great way to make friends and form relationships. If exercise isn't your thing, create a group that volunteers at local charities.
Take Opportunities to Be Helpful
Doing a nice gesture for someone else, even if it's small, goes a long way. There are countless ways to serve your neighbors, like mowing the lawn when they're out of town, walking their dog, shoveling snow unexpectedly, bringing food when someone is sick, or donating a couple of hours to help with a project.
Treat Your Neighbors How You Want to Be Treated
Above all, this is the most important rule to remember when trying to be a good neighbor, and it's a simple one.
You never know when you might inadvertently be the neighbor who is disliked by others. You don't have to be lifelong friends with every neighbor to be a good neighbor to everyone.